Qualifications & Experience
I am a great believer in the phrase 'None of us ever stop learning'. Even after 13 years of training people I am still constantly working to increase my knowledge in order to help my clients.
Over the past 13 years I have attended lots of courses and earned many qualifications and certificates (see below). Without a doubt though, I have learned more from guinea pigging my own body and simply watching the way people move.
I often feel that fitness professionals can become precious about their discipline. Most of the trainers I have meet follow one training style or particular health & fitness guru. A Pilates instructors answer is usually Pilates, a Yogi's answer is usually Yoga.
I cheerfully admit that over the last ten years I have stolen ideas from exercise gurus, Yogis, dietitians,  chiropractors, physical therapists, osteopaths and even other trainers. My philosophy is simple, if it works I use it if it doesn't I don't. I also regularly talk to or meet up with other trainers, physical therapists, chiropractors and other specialists in order to share ideas.
Qualifications:
Level 3 Personal Trainer Award.
Exercise and Fitness Knowledge (Levels 2 & 3).
Client Appraisal.
Advanced CV Programs.
Advanced Resistance Programs.
Nutrition and Weight Management.
Sports Conditioning.
Ante and Post Natal Exercise.
Swedish Body Massage (Level 3).
Sports Massage (Level 3).
Additional Certificates:
First Aid Certificate.
Advanced Fitness Testing.
Shoulder Joint Injury Prevention.
Treatment and Rehabilitation.
Core Stability.
Exercise and Disabilities.
Fitness Training For Older Adults.
Assessing The Spine And Spinal Mobility.
Postural Assessment & Correction.
Flexibility: The Art And Science Of Stretching.
Advanced Functional Trainer.
I Also Specialise In The Following Areas:
Postural correction and injury prevention.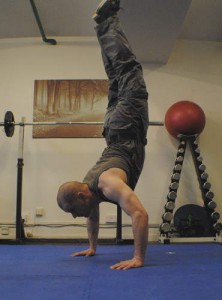 Bodybuilding and Strength training.
Beating Anxiety And Panic Attacks.
Periodised Training.
Sports Specific Nutrition.
Beating Lower Back Pain.